Last year, I spent Thanksgiving in Costa Rica with my close friends. We drove up and down the countryside, stayed in a luxurious resort, and had an amazing time. We were there for one week and while I had a great experience, I couldn't stop thinking about going back. I prefer hostels over hotels, muddy jungles over sandy beaches, and a $5 dollar dinner over a $50 one. So I started to plot my next adventure, a month long backpacking trip in Costa Rica. I would climb volcanoes, hike through the jungle, and experience Costa Rica the way I wanted to; from a pair of worn out hiking boots.
Weatherwise, January and February are the best months to visit Costa Rica. The upside is the temperatures are warm and the rainy season has ended. On the downside, it is peak tourist season, so prices of flights, hotels and tours are more expensive if you don't know where to look.. Also, even though the rainy season has ended, that does not mean a "dry" season started. They call it a rainforest for a reason, after all.
When you have a few weeks to work with, it's easy to travel around the country and visit all the amazing locations Costa Rica has to offer. Staying longer allows for a richer, more lived in experience as well. You'll never feel pressed for time as you can spend days in a particular region, not just hours. It provides much needed flexibility to adapt to the unexpected, the weather being the most temperamental. You spend less time in airports and other travel hubs as if you were traveling in between countries (Less time waiting for a ride and more time exploring is always a plus!).
If you are staying for a long period of time (anything over a week or so), it becomes vital to have your own transportation. The bus system is amazing in CR and perfect for getting around the major cities, but if you're traveling all over the countryside it is important that you don't get tied down by their schedules and routes. Renting a car is much easier (and cheaper) than you might think. We landed in San Jose and picked up our car.
Contrary to popular belief, you can negotiate the price of a rental vehicle. Before even booking flights, my travel partner emailed several rental companies giving them the dates of our trip and asking for prices. After a few back and forth replies with one company, we were able to secure an SUV for 30 days and smart phone with free data and a builtin wifi hotspot (which is a great resource to have) all for under $1000! The money we saved by staying in hostels instead of the major hotels more than made up for the price. They even picked us up from the airport and provided us with a cooler! Sadly it was still BYOB.
The main goal of our Costa Rican roadtrip was to hike volcanoes. Little did we know that most of them are off limits due to recent volcanic activity and as an attempt to cultivate the area.. Poas used to be the most visited volcano until it closed in 2017 and Turrialba, which closed at 2015. Both of these were very easy to get to as you can pretty much drive all the way to the crater. We were able to drive to the peak of Irazu volcano. located south of San Jose on a beautiful sunny day and were awarded with full view of the volcano crater. At 11,260 feet (3,432 m), the Irazú Volcano is the highest active volcano in Costa Rica.
Arenal Volcano, located just outside La Fortuna, became my favorite destination on our trip. Arenal is truly majestic and great to see, sadly the clouds are almost always present so seeing the top of this volcano is really rare. Locals confirmed that the full volcano view happens only few times a year. And it rains there a lot too. We spent almost 10 days there, first at the beginning of our trip but decided to cut our visit short due to heavy rains, only to come back at the end when the weather became better and we got sunny skies. There is a lot to do in and around Arenal and La Fortuna. You can book a tour almost anywhere in town there are so many operators and travel agencies. There are lots of hikes you can do in Arenal National Park and nearby at Cerro Chato volcano (although the trail to the crater of Cerro Chato is closed and off limits). Arenal is very active volcano and a baby compared to all the other volcanoes in Costa Rica, only a few thousand years old. Locals are expecting that Arenal will erupt in the future, but if its gonna be this year or in 1000 years, no one knows. When in Arenal I definitely recommend hiking to the base of Arenal volcano to see the lava fields. We saw monkeys, sloths and parrots around the trail so there's lots of opportunities to see wildlife also.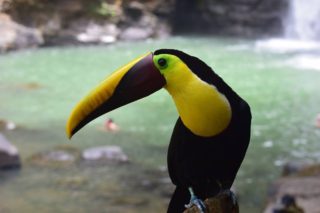 I am all for independent traveling but I do recommend taking tours in certain locations. Some of the national parks in Costa Rica are hard to get to and the wildlife is hard to spot when you don't know where to look, which is where the tours come in handy. Local guides help you find animals easier and I joined several guided wildlife tours in hopes of spotting animals that I might miss if I had gone by myself. One of the best guided tours I participated in was in southern Costa Rica, Corcovado National Park.
Corcovado is along the Panamanian border and very hard to get to, making a guided tour necessary. From the little town of Sierpe, you board a small boat that takes you down river and out into the Pacific Ocean before finally getting to the entrance of the park. This place definitely makes you feel like you are at the end of the world and you will be awarded with beautiful beaches, thick rainforest and several animal sightings for going to such an out of the way location.
On the northern end of the country, by the Nicaraguan border, is the Cano Negro Wildlife Refuge. This was also only accessible by boat and was full of beautiful animals and scenery. The boat trip takes you deep into the park canals where you can spot caymans, monkeys, turtles and various birds.
Palo Verde National Park offers a similar experience with the sights of crocodiles, monkeys, iguanas and more. 
Unfortunately I wasn't able to visit Tortugero National Park, over on the Caribbean side. I hear it is amazing to visit but really hard to get to. Anyone who has been there please feel free to share your story!
On the west side of the country you'll find two of the most popular national parks Costa Rica has to offer, Manuel Antonio and Carara National Park. Both are very easy to get to and swarming with tourists and locals alike. Carara offers a few decent long trails and you can usually spot monkeys and iguanas even really close to the entrance. Manual Antonio offers several trails, a beautiful beach, along with sloth and white cappuchin monkey sightings. If you are in the area, don't forget to visit Jaco for some food and drinks and maybe even embark on crocodile tour along the Tarcole river. We witnessed real crocodile feeding and learned a lot about these animals.
Besides the national parks and wildlife refuges, there are plenty of botanical gardens to visit as well. I definitely recommend La Paz waterfall gardens, it is little commercial but the gardens are fantastic. If you love hummingbirds and butterflies, definitely visit the gardens in the Monteverde region. They have great hikes crossing suspension bridges there and in Arenal, they have great views and you can enjoy the rainforest with some peace and quiet as well.
When you are ready for the beach, go to Tamarindo. One of the most beautiful beaches in the country, Tamarindo is busy and really swanky. For a beach that locals prefer, check out Conchal Beach which is covered in small of sea shells and is really gorgeous. Just try to avoid it on weekends they get really crowded and busy with locals.
More than anything else, if you are visiting Costa Rica you absolutely must go whitewater rafting on the Pacuare River. Named as one of the Top 5 rivers in the world for rafting, this place won't disappoint. I recommend booking your trip with Exploradores Outdoors as they offer 1 day or multiday rafting trips. We went on their full day trip which was an exhilarating four hour rafting experience, going over 18 miles and 34 rapids, all Class III and IV. Our guide was fantastic and we had amazing time.
As the local ticos say, "Pura Vida!" and enjoy trekking across Costa Rica! Feel free to hit me up if you have any questions.
Tips:
1. Try to be flexible and able to change your plans as you go. The weather might change quickly and you might have to adjust your plan.
2. Eat locally. Look for local "sodas", which is basically a shack by the road. They might not look like much, but they have great food for a great price. I ate ceviche or casado (meat/rice/beans/salad) pretty much every day and only spent about $4 for food daily. Also try local batidos – milkshakes – they are amazing! I recommend banana and quanabana, you won't regret and they only cost about $1!
3. Go off the beaten path. I enjoy the National Parks and tours but I found that most wildlife is usually around less traveled trails and places. The further you go, the less people you will encounter and the more animals you will see. We have visited Nayaca Falls that are on a private land and about 5 miles hike and were rewarded by views of one of the most beautiful waterfalls I have ever seen, and a wild toucan chilling on a branch, waiting to be captured with my camera.
4. Sleep cheap. Cheaper hotels or hostels don't always mean dirty or shady. We often ended up in a hostel with private room, bathroom and breakfast for about $15 per person.
5. If you are looking to go on tours, try to book all of them with the same agent. I found local person in Arenal that booked me for great tours with even greater discounts and really valued my loyalty.