When in Antigua, Guatemala, the presence of volcanoes is everywhere. You can see Volcan Aqua from every street or rooftop bar in the city, get a glimpse of active volcanoes Fuego and Pacaya and even see the highest of all of them – Acatenango.
Acatenango is a dormant volcano, and with the height of 13,044 ft it is also one of the highest in Central America. With active volcan Fuego just nearby, it is possible to climb both volcanoes in one trip, although once you see Fuego smoking and spiving ash and lava, you might opt out of that climb.
The trail up Acatenango is pretty easy to navigate at so its ok to go yourself although I have heard horror stories of tourists getting assaulted on the trail and hiring local guide is recommended. Guiding services vary in prices ($25-100 per trip) and you can choose between day and night hikes or overnight on the mountain.
I chose night hike in order to reach the top for sunrise. From the top, you can see the active volcan Fuego up close, volcan Aqua and even Lake Atitlan with several dormant volcanoes.
The trail head is located near Aldea de Soledad at 7850 ft. There are no signs for the trailhead, it literally starts from the side of the road. The distance is about 6 miles from the TH to the top. This hike passes through several climate zones, starting from farmland to rainforest, to pine forest to barren volcanic summit.
My hike started around 10pm when I got picked up by the local guide and driven to the base of volcano. The hike starts from one of the local villages. It was quite cold and windy, which is surprising as Antiqua gets super hot during the day.  We were given headlamps and a sandwich for lunch, big parka for the top and a stick to help our knees up and down the volcanic ash trail.
The hike starts with  you going uphill immediately on an ashy trail, which can be a slog. You will spend about 4 hours on the trail depending how fast you are. I used to hate hiking at night but not being able to see how much farther you have left is pretty nice.
Volcan Acatenango is the third highest volcano in the country and hiking to the summit is not an easy adventure. But if you're in moderately good physical condition then it is one of the most rewarding things you can ever do in Guatemala. Volcan Fuego is very active and its constantly erupting. When I went in March, the eruptions were about 30 minutes apart. I have to say that watching (and hearing!) active volcano erupt is something that I consider one of the top adventure experiences ever. There is just something about being in the presence of such a nature force.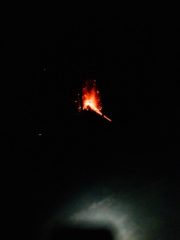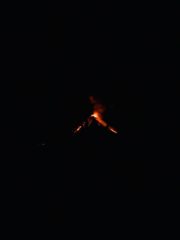 After about 4 hours of uphill hiking, the trail starts to flatten out as you start looping around the mountain. That is when Volcan Pacaya (active and you can see lava pouring out!) and Aqua comes to the view and once you reach the base camp, you will have direct view of Volcan Fuego. There are tents spread out on small platform, logs to sit on and if you are lucky, there will a fire to warm you up. As we got to the basecamp at about 2:30am, our guide gave us an excruciatingly long break until 5am when we started hiking again. Some opted for a quick snooze (although very hard due to the cold, wind, other hikers passing by and Fuego erupting – the eruptions resembling explosions and earthquake). I decided to hang out by the fire as there was zero chance for me to sleep, talking to the guides and watching Fuego erupting every 20-30 minutes. At 5am we got back on the trail as the goal was to reach the summit at sunrise. The trail at this point is very sandy, ashy and slippery. Also did I mention you're still going straight uphill? At this point you will be kissing your hiking stick (if you haven't before). It's a slog up there but once you reach the summit, it will be all worth it. The views are spectacular. Once the sun breaks out of the clouds, you will see the nearby volcanoes and enjoy full lava fireworks show of Volcan Fuego.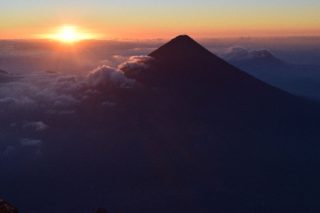 After taking in the view and pictures, we descended rather quickly back to the base camp for breakfast (lunch). Sliding down the volcano ash is not my favorite activity as my feet often get burn in my hiking shoes and the ash just gets everywhere (on your body, hair, clothing, shoes, ears, nose, eyes). The hike down seems to take longer than you might think, at least for me it was just like that as I didn't see the trail and surroundings when hiking up.
We got down to the base at about 10am, had some eggs and toast at the local village and then headed back to Antiqua for some much needed rest time.
Here's a few of the things that I learned during my hike and can recommend if you want to do it yourself:
1. Do wear proper hiking shoes or boots (gaiters would be helpful)
2. Don't wear warm clothes for the hike – the hike up gets hot and sweaty but you will need warm parka, gloves and hat at the summit as it gets cold and windy
3. Pack only what you ABSOLUTELY need – As much as I understand it is smart to bring extra water or snacks or another layer, you will hate any extra weight in your backpack
4. Bring about 3-4 litres of water or gatorade – you will get thirsty!!
5. Bring aspirin or Ibuprofen with you – headaches and altitude sickness is not uncommon