At the crossroads of the Mt. Hood, Deschutes, and Willamette National Forests sits the Mt. Jefferson Wilderness. It's a spectacular corner of the wilds, with sub-alpine forests, meadowed slopes, and sparkling lakes all sitting under the shadow of Mt. Jefferson, the second-tallest mountain in Oregon (after Mt. Hood, also in the Cascade Range). Many consider it the most scenic hiking area in Oregon, and it's beloved by folks all over the state as a terrific place for stargazing, birdwatching, and mountain climbing.
At 10,497 feet, Mount Jefferson is the second tallest mountain in Oregon. It is a stratovolcano with slopes mantled by five glaciers – Whitewater, Waldo, Milk Creek, Russell, and Jefferson Park. 
Oregon's second tallest mountain rises like a wall from the lake-dotted wildflower meadows of Jefferson Park. Jefferson Park is a flat basin at the bottom of Mount Jefferson's north side. It's a lush valley situated in a protected bowl with the glaciated stratovolcano on one side and the 6,900-foot Park Ridge on the other. Known for its stunning display of wildflowers in late summer and its numerous subalpine lakes, the park captivates outdoor enthusiasts of all types, be they PCT through-hikers, casual explorers, or photographers hoping to snap the perfect shot. Access into Jefferson Park can be gained either from the north via Jefferson Ridge, the trailhead at Breitenbush Lake, or from the west via Sentinel Hills.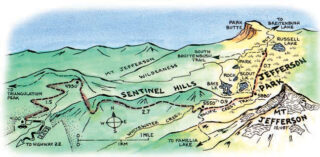 We have previously day hiked into the Jefferson Park but ultimately decided that we want to come back and camp near famous Russel Lake. Starting at Breitenbush Lake, breathtaking views of Mount Jefferson open up as the path climbs east along the ridge. Once getting on top of the ridge, the trail connects with a segment of the Pacific Crest Trail, which leads into Jefferson Park. This part of the trail is very enjoyable downhill walk, all the way to Russel Lake.  We spent some time around the lake and then continued past the lake on the PCT trail, as there are more lakes to explore. Less than a mile further, the trail meets with Scout, Rock and Bays Lakes. There are several designated campsites around the lakes, no permit was needed in the summer of 2019 or 2020, but seems as permits are coming in the upcoming 2021 season. They were originally planned for 2020 but eventually got postponed due to covid outbreak.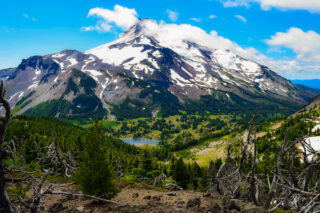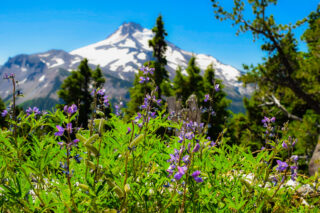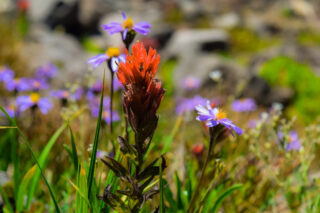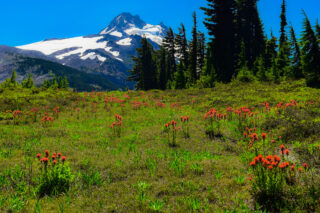 A neat web of trails can be found all around the lakes adding potential miles if you are up for some exploration. We have hiked in the circle all around the lakes and enjoyed all the different views. If you love wildflowers, go in the early summer time as the meadows are overflowing with all kinds of different types of wildflowers. 
 The lakes here are absolutely stunning. They are all a beautiful clear blue-green color, and very inviting for swimming in the warm summer months. There are a total of 26 designated campsites around Scout, Bays, Rock and Park Lakes, and 4 campsites at Russell Lake.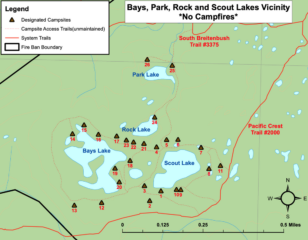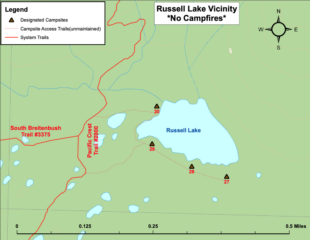 Scout Lake was named by Boy Scout Troop #20 out of Albany in August 1931. They spent multiple days camped by the lake and before they left, they marked 'Scout Lake' with a pencil onto a split-limb pointer along the Skyline Trail (which is now known as the Pacific Crest Trail). On a later trip they found that the pencil markings were no longer readable, so Scout Lake was carved into the limb. Scout Lake is quite deep and has great sandy shores, which makes it a good swimming destination in hot weather. The lake has several nice campsites around it. Campfires are banned throughout the area but stoves are OK. Due to high elevation and ample snowfall Scout Lake doesn't usually thaw until the end of June at the earliest, and is ice-free no earlier than the middle of July. There's nice view to Park Butte from its southern shore and even better view of Mount Jefferson from its northern shore.
Bays Lake is one of the most scenic lakes in Jefferson Park. As the name suggests, it has quite irregular shape. It is deep in places and the shore is mostly steep and rocky. The lake has several nice campsites around it and is very popular; however, camping is permitted only in designated sites marked with an embedded post. Campfires are banned throughout the area. Due to high elevation and ample snowfall Bays Lake gets ice-free no earlier than the middle of July. There's nice view of Mount Jefferson from its northern side.
Russel Lake offers untouched wilderness and unpopulated natural scenery. This is also a great spot for stellar astrophotography.