This is the number one trail in the Pacific Northwest! The most challenging trip I have done so far, this 90+ mile loop is full of steep uphill and downhill climbs every day, sketchy water crossings every other day, but you are rewarded with beautiful meadows full of wildflowers, the majestic Mount Rainier, glaciers, marmots, goats and more!!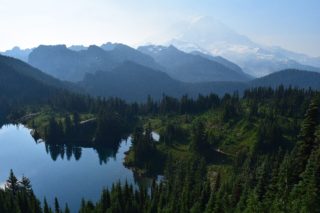 First of all – the permits. You need to apply ahead of time for your permits and have the breakdown of your trail already planned. The dates, number of days, clockwise or counterclockwise and pick your campgrounds. You can also always just drive to the park and try to get walk in permit.  I applied for the permit in March 2018 and was able to use the dates and campgrounds that I preferred.
Day 1- We started at Longmire around noon, a lot of cloud cover and the temperature 65-70 degrees. The trail was through the forest, which husband enjoys, but I prefer higher altitudes because the landscape really opens up when you're above the tree line. Towards the end of the day, we got to the ridgeline and just as we were about to descend towards South Puyallup River Camp, the clouds parted and gave us our first glimpse of Mt. Rainier! That was my favorite moment on the trail that day! We saw a couple mountain goats peeking behind rocks at the top of the pass. Once we got to camp around 8:30pm, we pitched our tent, had one glass of wine, and went to bed. The first day was an exhausting 16 mile hike.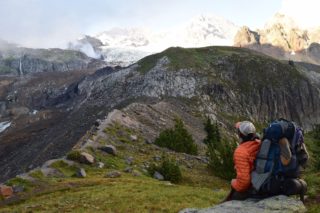 Day 2- Started from South Puyallup River and stopped at the Golden Lakes campsite. The trail goes straight up and doesn't level out for a while. When you do finally reach the ridgeline, it all becomes worth it as you are rewarded with more great views of Mt. Rainier. We were so inspired by the views at St. Andrews Lake that we stayed for 2 hours! That was the highlight of the day for sure. Arrived at Golden Lakes around 6pm and enjoyed some wine and a hot turkey dinner (freeze-dried, of course) by the lake. We hiked about 15 miles that day.
Day 3 –  our shortest and easiest day on Wonderland. Hiked 11 miles from Golden Lakes to Mowich Lake. Got there about 3pm and enjoyed time at the lake and campground. There is access from the road so expect lots of people around the lake and in the campground. Great time by the lake and plotting rest of our trip.
Day 4 started at 6am with a 7 mile day hike to the Tolmie Peak Lookout. After coming back from to our camp and having breakfast, we started towards Carbon River. We decided to take the more difficult but higher elevation route via the Spray Park Trail. 
The trail goes around Spray falls and the beautiful Spray Park, then towards Seattle Park and finally down to Carbon River. This was the most scenic and picturesque part of an entire trail that is full of them! Mount Rainier peeks out and the views kept getting better and better. We saw a bunch of marmots playing between the rocks and snowfields.
From Mowich Lake to Carbon River was about 13 miles, so including our trip to Tolmie Peak, we did almost 20 miles that day!
Day 5 – This was another 20 mile day. From Carbon River our hike started with a steep uphill hike alongside Carbon Glacier towards Mystic Lake, with breathtaking views everywhere we looked. We had lunch at Mystic Lake then continued towards the feared Winthrop River crossing. Luckily, the bridge was in reinstalled just a few days before we started our trip, and was still in place when we got there. That's when the steepest climb of the trek started,  more than 3,000 feet up to get over Skyscraper Pass. The hike is grueling but what you see at the top is amazing. Spectacular views of Mt. Rainier and surrounding peaks and glaciers. From the pass the hike goes down (and up again) towards Sunrise! This section is really pretty and a nice stroll compared to all the uphill earlier in the day. We arrived at Sunrise around 6pm and treated ourselves to some burgers and soda (about 5 liters worth :D) from the cafeteria there. 
Day 6 –  From Sunrise to Summerland! One of the prettiest sections of an already beautiful trail. We spent about 2 hours at Summerland meadows, taking pictures and enjoying some down time and cooling off in the glacier-fed creeks. After that we made our way up to Panhandle Gap and decided to spend night at the top. We saw more mountain goats and an amazing sunset. Total for that day was 16 miles.
Day 7 – Woke up early and started our hike south. From Panhandle Gap down to Indian Bar and then up and down all the way to Nickel Creek. From Nickel Creek we ventured to the Box Canyon and Longmire. Total 18 miles.
Tips:
I recommend at least 8-9 days as the trail is hard, lots of steep uphill and downhill, snow and washed out bridges, and beautiful scenery! You will want to stop and for pictures and take it all in! Or just sit down, and give your feet a well-deserved break.
Choose your dates, plan, pick campgrounds, get your permit and stick with it! I liked going clockwise. We averaged about 15-20 miles per day, which was a lot. The mileage plus the hot weather made for some really tough days. I'd recommend no more than 15 miles per section. Less miles = more time to enjoy the trail!
You can cache some food at the campsites accessible by road (Mowich Lake and Sunrise, for example) so you only need to carry 3-4 days worth of food at a time. We did not cache anything and carried all our food for the whole time.