There probably isn't a better place to find stunning waterfalls than Pacific Northwest. There are way to many to mention here, but I am listing the one's that truly captured my heart and made me want to revisit every year! Some of these are located in Oregon, mainly Columbia River Gorge and Bend Area, the rest can be find in Northwest Washington.
Happy Hunting!
1.6 miles, roundtrip
Gain: 147 ft.
Proxy Falls, also known as Lower Proxy Falls, is a cascade and plunge waterfall from a collection of springs on the shoulder of North Sister, that plunges into a gaping canyon near McKenzie Pass in the Willamette National Forest, near Belknap Springs, Oregon.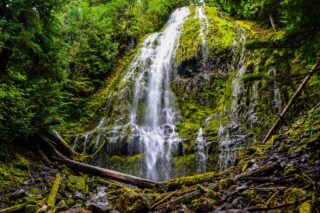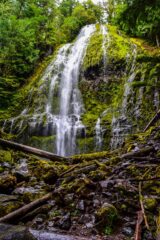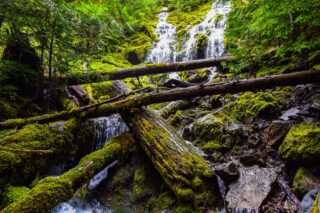 2.2 miles, roundtrip
Gain: 357 ft.
Sahalie Falls is a picturesque waterfall along the McKenzie River features a viewing platform and trails that connects to Koosah Falls.
Koosah Falls, also known as Middle Falls, is the second of the three major waterfalls of the McKenzie River, in the heart of the Willamette National Forest, in Linn County, in the U.S. state of Oregon. The waterfall is notable for its main drop of 64 feet that plunges into a considerable pool, south of Santiam Pass. Koosah Falls drops approximately 70 feet  into a deep pool. Sahalie Falls is a mass of foaming white water plunging 100 feet over a natural lava dam.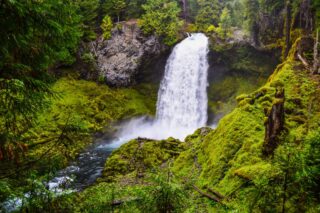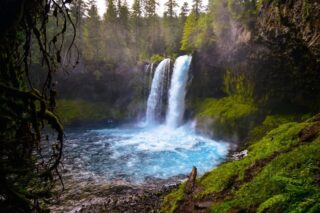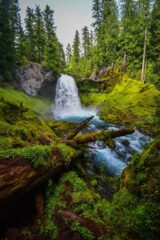 6.2 miles, roundtrip
Gain: 1150 ft.
This beautiful waterfall nestled on the Washington side of the Columbia River Gorge could be easily overlooked but shouldn't. This waterfall has upper and lower tier and they are both accessible by nearby hiking trail.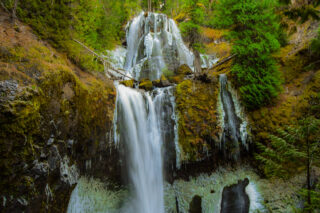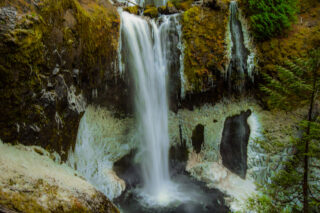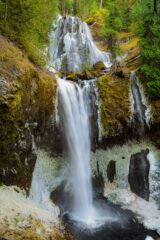 8.8 miles, roundtrip
Gain: 450 ft.
Highest Point: 1300 ft.
This is a striking, 200-ft.-wide cascade in a tranquil forest setting with natural swimming holes. If you hike all the way on the trail, you will discover more waterfalls along the Lewis River.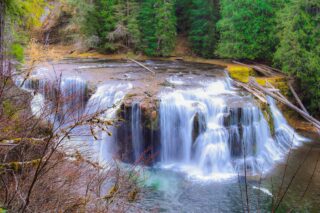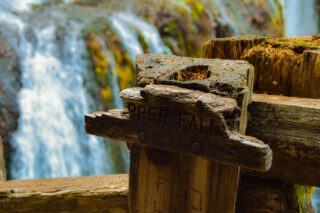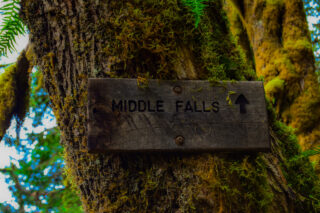 Kentucky Falls
This is a true Oregon hidden gem. This trail features Lower and Upper Kentucky Falls and North Fork Falls  in the old growth Douglas fir forest. Expect the unexpected on this lightly traveled trail. From downed trees, mudslides and lack of consistent trail maintenance, it's a walk on the wild-side. The reward is amazing beauty and few people.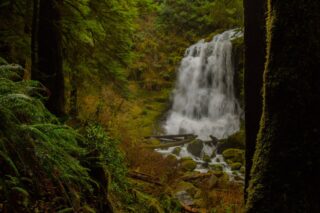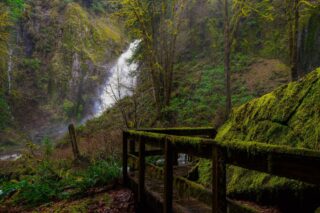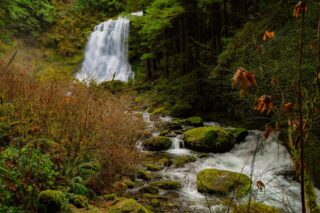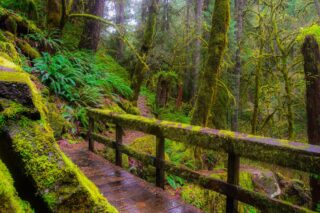 Wallace Falls
5.6 miles, roundtrip
Wallace Falls State Park is a public recreation area that encompasses 1,380 acres along the Wallace River. The state park is located on the west side of the Cascade Mountains with an entrance point one mile northeast of the community of Gold Bar.  This trail takes you to several tiers of the Wallace Falls and is best to visit in the spring when the water flow is the highest.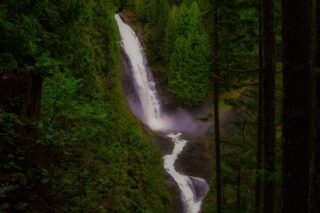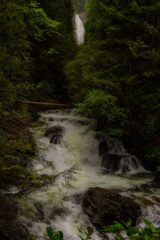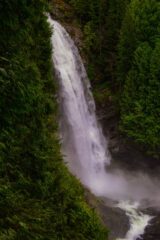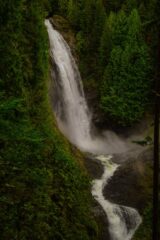 Twin Falls
2.6 miles, roundtrip
Gain: 500 ft.
Highest Point: 1000 ft
Twin Falls are located in the Ollalie State Park near Seattle. The hike is fairly easy and features several viewpoint of the river and falls. Other notable hikes starting from the trail include Mt. Washington or Deception Craigs.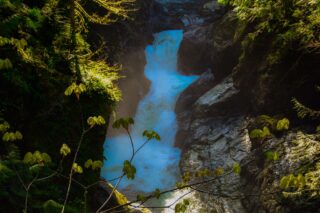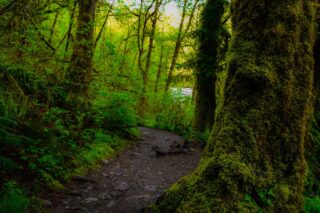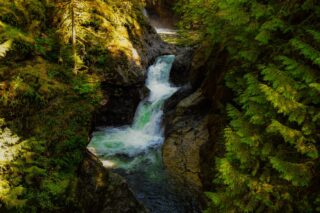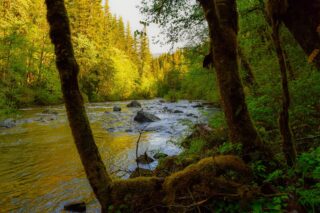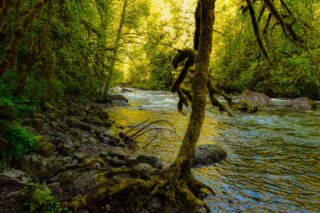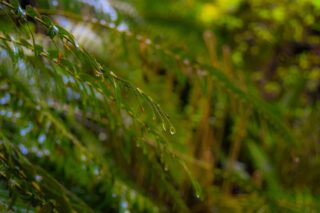 Silver Falls
3.0 miles, roundtrip
Gain: 600 ft.
Highest Point: 2300 ft.
This is a short loop hike along the Ohanapecosh River in the  Ohanapecosh east area of Mount Rainier National Park.
The clear, icy and swift Ohanapecosh River tumbles over Silver Falls as it flows from its headwaters in the glaciers and snowfields on to the sea.  Although inviting to sit on, the rocks near Silver Falls are wet and very slippery. Opportunities abound for enjoying the old-growth forest community seen along this trail. Listen for the tapping of woodpeckers. Look for deer and other wildlife. Along the river fly fishermen can often be seen trying their luck.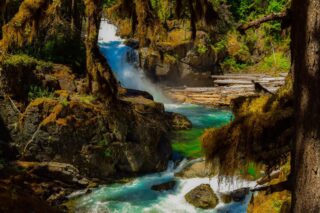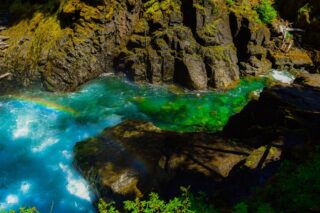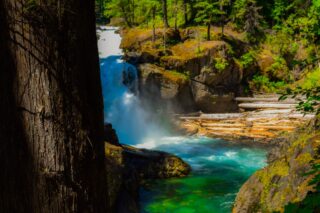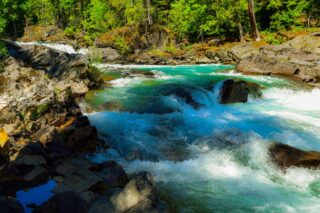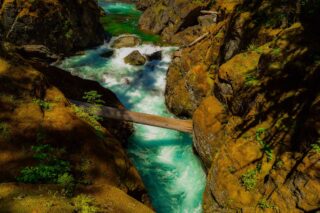 Spirit Falls
0.8 miles, roundtrip
Gain: 505 ft.
Spirit Falls is located at the end of a short hiking trail along the Columbia River Gorge, close to the town of White Salmon. The trail isn't tough, but it also isn't well-marked, so it's easy to miss and is fairly steep. There are several different unofficial paths that lead down to Spirit Falls. Some trails cross private property and some do not.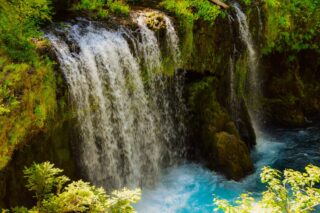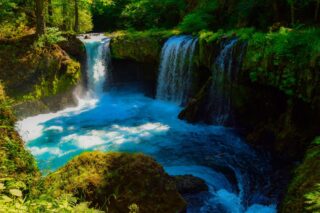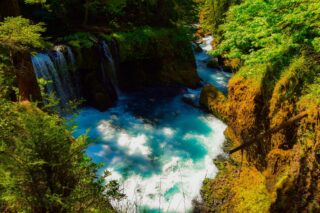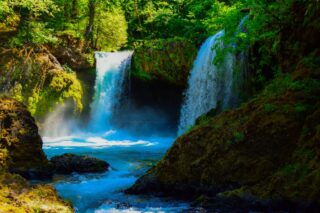 Little Mashel River Waterfalls
5.0 miles, roundtrip
Gain: 500 ft.
Highest Point: 1100 ft.
The Little Mashel River Waterfalls are the 3 waterfalls contained within the gorge of the Little Mashel River, not far above its confluence with the Mashel River. This hike features two different trailheads and provide great choices for an excursion to Little Mashel Falls.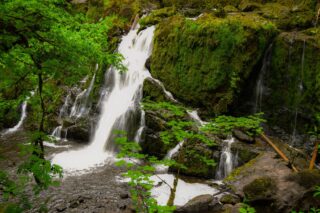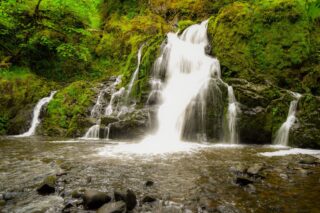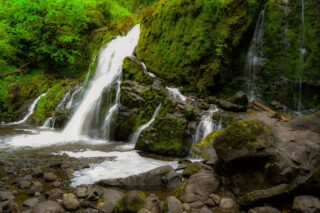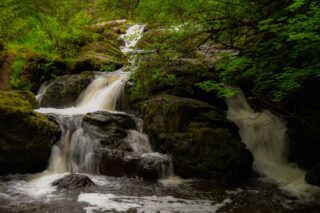 Snoqualmie Falls
1.4 miles, roundtrip
Gain: 250 ft.
Highest Point: 450 ft.
Snoqualmie Falls is a 268-foot waterfall located just east of Seattle. The 0.7-mile interpretive trail from the upper falls viewpoints to the lower falls viewpoint is family- and pet-friendly, good for beginners, teaches the basics of the flora and fauna near Snoqualmie Pass, informs about local Native American culture, and ends with impressive views of a Washington icon.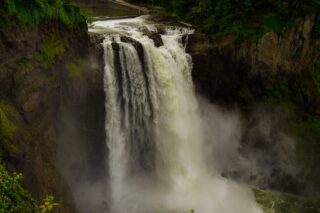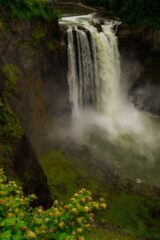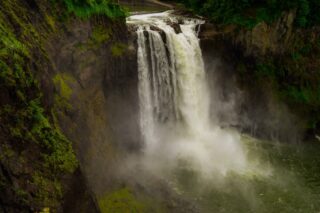 Franklin Falls
2.0 miles, roundtrip
Gain: 400 ft.
Highest Point: 2600 ft.
Franklin Falls is a waterfall on the South fork of the Snoqualmie River, the first of three major waterfalls on the South Fork Snoqualmie River. The falls are located near Snoqualmie Pass.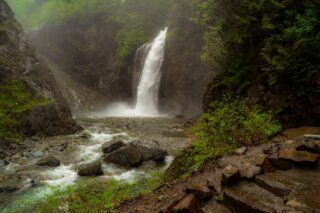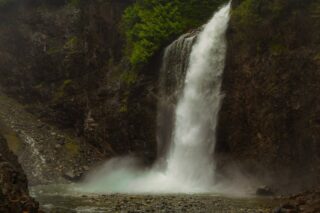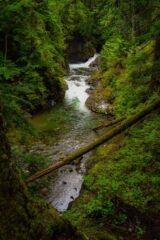 Multnomah Falls – Wahkeena Falls Loop
Multnomah Falls is a waterfall located on Multnomah Creek in the Columbia River Gorge, east of Troutdale, between Corbett and Dodson, Oregon, United States. The waterfall is accessible from the Historic Columbia River Highway and Interstate 84. This popular loop is a waterfall lover's paradise. There are six officially named waterfalls on this trip as well as countless cascades and intermittent falls. The loop can be hiked either direction, and it can be started from either trailhead.
On this loop trail you will find several beautiful waterfalls besides Multnomah and Wahkeena, Fairy Falls being one of my favorite one.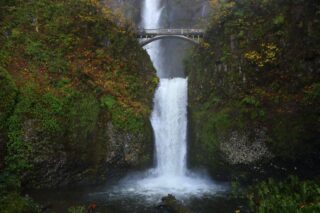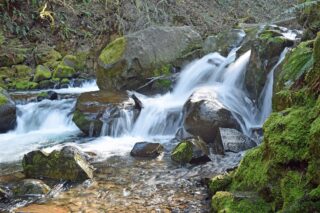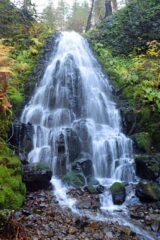 Latourell Falls
Latourell Falls is another waterfall along the Columbia River Gorge, within Guy W. Talbot State Park. The Historic Columbia River Highway passes nearby, and at certain locations the Lower falls are visible from the road.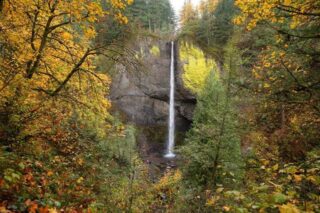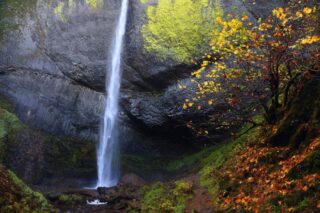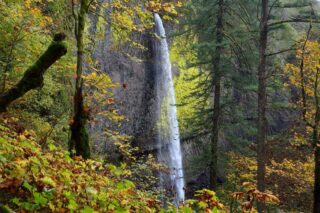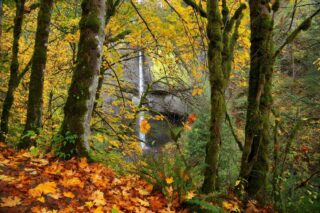 Tumalo Falls
Tumalo Falls is a 97-foot waterfall on Tumalo Creek, in the Cascade Range west of Bend, less than a mile from the Three Sisters Wilderness. Additional waterfalls are upstream along Tumalo Creek and a tributary, Bridge Creek and its Bridge Creek Falls. All of these falls are within the Deschutes National Forest