Nothing better than escaping the cold temperatures of Pacific Northwest like taking a 20 hour flight and end up in sunny Southeast Asia.  I was very excited for one of my planned destinations, Vietnam especially Ha Long Bay. I saw way too many pictures on the internet and heard amazing stories so I decided I had to see it in person, and in the most immersive way possible.  So I spent a few nights on a local boat right in the middle of the bay.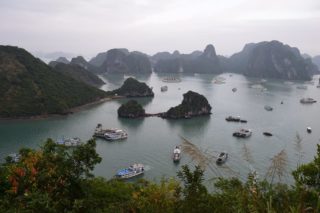 Hạ Long Bay, in northeast Vietnam, is known for its emerald waters and thousands of small yet towering limestone islands called islets, covered by rainforests. Junk boat tours and sea kayak expeditions take visitors past islands named for their shapes, including Stone Dog and Teapot islets. The region is popular for scuba diving, rock climbing and hiking, particularly in mountainous Cát Bà National Park. The bay holds around 2000 limestone islets, some very small, some bigger with hiking trails, beautiful beaches and deep caves.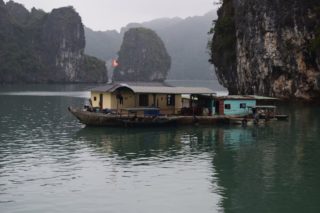 It's also home to a diverse ecosystem, including a tropical evergreen, oceanic, and seashore biosystem, Ha Long Bay hosts 14 endemic floral species and 60 endemic faunal species. Ha Long bay is also a UNESCO World Heritage Site. The name Hạ Long means "descending dragon".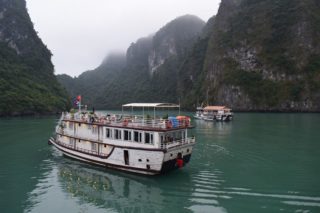 The bay consists of a dense cluster of some 1,600 limestone monolithic islands each topped with thick jungle vegetation, rising spectacularly from the ocean. Several of the islands are hollow, with enormous caves. Hang Dau Go (Wooden stakes cave) is the largest grotto in the Ha Long area. French tourists visited in the late 19th century, and named the cave Grotte des Merveilles. Its three large chambers contain large numerous stalactites and stalagmites (as well as 19th-century French graffiti). There are two bigger islands, Tuan Chau and Cat Ba, that have permanent inhabitants, as well as tourist facilities including hotels and beaches. There are a number of beautiful beaches on the smaller islands.
A community of around 1,600 people live on Ha Long Bay in four fishing villages: Cua Van, Ba Hang, Cong Tau and Vong Vieng in Hung Thang commune, Ha Long city. They live on floating houses and are sustained through fishing and marine aquaculture, plying the shallow waters for 200 species of fish and 450 different kinds of mollusks. Ha Long Bay is host to two ecosystems: a tropical, moist, evergreen rainforest ecosystem; and a marine and coastal ecosystem. With an increasing tourist trade, mangroves and seagrass beds have been cleared and jetties and wharves have been built for tourist boats. Game fishing, often near coral reefs, is threatening many endangered species of fish. Local government and businesses are aware of problems and many measures have been taken to minimize tourism's effect to the bay environment for sustainable economic growth like introducing ecofriendly tours and stricter waste control at the resorts.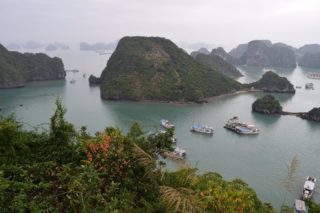 When you visit Ha Long Bay, you will be greeted by emerald waters and green islands. You could see local fishermen catching fish in the waters. The days are busy with lots of boat trips coming in and out of the Bay as most people want to visit multiple islands in one day, hiking short trails, enjoying sunsets on the beach, and exploring some of the many caves while there. Our trip consisted of all of the above but the best part was at night. With most of the boats headed back to the mainland, the bay becomes silent and peaceful. Have a glass of wine or beer, sit on the deck or beach, and soak in that silence. 
The cruise ships can hold anywhere from 10-200 people, but ours had only 12 people on board which was truly great. The food on the boat was some of the best seafood I ever had. I loved kayaking early in the morning, when we were the only people in the water.  I have never felt so peaceful when kayaking in the bay. You see limestone towers up close and personal and visit small caves where you can fit with the kayak. Ha Long Bay was definitely my favorite place in all of Vietnam.
If you have more time to explore, don't forget to see Hanoi. This city is full of colorful houses and streets, markets and delicious street food.
norfloxacin tinidazole side effects Here are some of the examples of what to look for on the street:
my explanation Phở – beef/chicken soup
cytotec qatar Gỏi cuốn – Spring Rolls. Rice paper filled with veggies and meat. We were lucky enough to make these our selves on our Ha Long Bay cruise. Just put the ingredients into the rice paper, roll, dip and eat!
Mien – Glass Noodles.  These were my favorite dishes, noodles with chicken or veggies.
And seafood! Obviously the best seafood is to be found at the local markets in the morning, when fisherman from all around come and sell their catches! These markets are cultural heaven and if you can, grab a local dish, fruit drink and sit and people watch!!