Mount Rainier, also known as Tahoma or Tacoma, is a large active stratovolcano located 59 miles south-southeast of Seattle, in the Mount Rainier National Park. With a summit elevation of 14,411 ft (4,392 m), it is the highest mountain in the U.S. state of Washington and it is the most prominent mountain in the continental United States.
Mt. Rainier is considered one of the most dangerous volcanoes in the world because of how close it is to heavily populated areas in Washington.  If it ever erupted, the glaciers on Mt. Rainier would produce massive lahars that could threaten the entire Puyallup River valley.
Mount Rainier is the tallest mountain in Washington and the Cascade Range. The peak is located just southeast of Seattle and Tacoma. Mount Rainier is ranked third of the 128 ultra-prominent mountain peaks of the United States. A mountain's prominence is measured by how much higher the mountain is in regards to it's relative surroundings. To speak plainly, Rainier sticks out like a sore thumb.
Mount Rainier has a topographic prominence of 13,210 ft , which is greater than that of K2, the world's second-tallest mountain, at 13,189 ft. On clear days it dominates the southeastern horizon in most of the Seattle-Tacoma metropolitan area to such an extent that locals sometimes refer to it simply as "the Mountain." If you're lucky you can see it as far south as Corvallis, Oregon, over 260 miles away!
With 26 major glaciers and 36 sq mi  of permanent snowfields and glaciers, Mount Rainier is the most heavily glaciated peak in the lower 48 states. The summit is topped by two volcanic craters, each more than 1,000 ft in diameter, with the larger east crater overlapping the west crater. Geothermal heat from the volcano keeps areas of both crater rims free of snow and ice, and has formed the world's largest volcanic glacier cave network within the ice-filled craters, with nearly 2 miles of passages.  A small crater lake about 130 by 30 ft in size and 16 ft deep, occupies the lowest portion of the west crater below more than 100 ft of ice and is accessible only via the caves.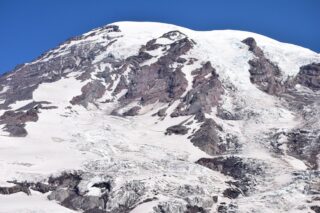 The broad top of Mount Rainier contains three named summits. The highest is called the Columbia Crest. The second highest summit is Point Success, 14,158 ft, at the southern edge of the summit plateau, atop the ridge known as Success Cleaver. It has a topographic prominence of about 138 ft, so it is not considered a separate peak. The lowest of the three summits is Liberty Cap, 14,112 ft, at the northwestern edge, which overlooks Liberty Ridge, the Sunset Amphitheater, and the dramatic Willis Wall. Liberty Cap has a prominence of 492 ft, and so would qualify as a separate peak under most strictly prominence-based rules (The cut-off for what qualifies as a peak is 400ft in Washington state).
High on the eastern flank of Mount Rainier is a peak known as Little Tahoma Peak, 11,138 ft, an eroded remnant of the original and much higher summit of Mount Rainier. It has a prominence of 858 ft, and it is almost never climbed in direct conjunction with Columbia Crest, so it is usually considered a separate peak. If considered separately from Mt. Rainier, Little Tahoma Peak would be the third highest mountain peak in Washington.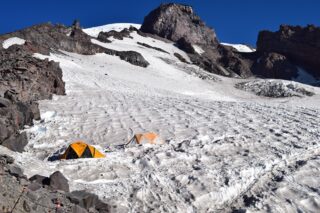 Mount Rainier is located in an area that itself is part of the eastern rim of the Pacific Ring of Fire. This includes mountains and calderas like Mount Shasta and Lassen Peak in California, Crater Lake, Three Sisters, and Mount Hood in Oregon, Mount Saint Helens, Mount Adams, Glacier Peak, and Mount Baker in Washington, and Mount Cayley, Mount Garibaldi, Silverthrone Caldera, and Mount Meagerin British Columbia. All of the above are dormant, but could return to activity and scientists research the past eruptions of each volcano to predict how mountains in this arc will behave and what they are capable of in the future, including Mount Rainier.  Of these, only two have erupted since the twentieth century: Lassen in 1915 and St. Helens in 1980 and 2004. However, past eruptions in this volcanic arc have multiple examples of sub-plinian eruptions or higher: Crater Lake's last eruption as Mount Mazama was large enough to cause its cone to collapse, and Mount St. Helens produced the largest eruption in the continental United States when it erupted in 1980. Luckily, statistics say the likelihood of a major eruption in the Cascade Range is usually 2-3 per century so we should be okay :D.
John Muir climbed Mount Rainier in 1888 and although he enjoyed the view, he conceded that it was best appreciated from below. Muir was one of many who advocated protecting the mountain. In 1893 the area was set aside as part of the Pacific Forest Reserve in order to protect its natural and economic resources, primarily timber and watersheds.
Mountain climbing on Mount Rainier is difficult, involving traversing the largest glaciers in the U.S. outside of Alaska. Most climbers require two to three days to reach the summit, with a success rate of approximately 50%, with weather and general fitness of the climber being the most common reasons for failure. About 8,000 to 13,000 people attempt the climb each year, and 90% of them use routes from Camp Muir on the southeast flank, while the rest ascend Emmons Glacier via Camp Schurman on the northeast or Liberty Ridge  on the northwest. Climbing teams require experience in glacier travel, self-rescue, and wilderness travel as well as a Mount Rainier Climbing Pass and register for their climb. Additionally, solo climbers must fill out a solo climbing request form and receive written permission from the Superintendent of the park before attempting to climb.
All climbing routes on Mount Rainier require climbers to possess some level of technical climbing skill. This includes ascending and descending the mountain with the use of technical climbing equipment such as crampons, ice axes, harnesses, and ropes. The difficulty of the climb varies depending on which route is taken. Routes are graded using the National Climbing Classification System, from Grade 1-6.
The normal route to the summit of Mount Rainier is the Disappointment Cleaver Route, which generally rates as Grade 2-3. As climbers on this route have access to the permanently established Camp Muir, it sees the significant majority of climbing traffic on the mountain. This route is also the most common for guided climbs. The term "cleaver" is used in the context of a rock ridge that separates two glaciers. The reason for naming this cleaver a "disappointment" is unrecorded, but it is thought to be due to climbers reaching it only to recognize their inability to reach the summit. An alternative route to the Disappointment Cleaver is the Ingraham Glacier Direct Route, grade 2, and is often used when the Disappointment Cleaver route cannot be climbed due to poor route conditions. The Emmons Glacier Route, grade 2, poses a lower technical challenge to climbers. The climbers on the route can make use of Camp Schurman (9,500 ft), a glacial camp site. Camp Schurman is equipped with a solar toilet and a ranger hut. The Liberty Ridge Route is a grade 4 and more treacherous than the other two routes to the summit. It runs up the center of the north face of Mount Rainier and crosses the very active Carbon Glacier. This route only accounts for 2% of climbers on the mountain, but 25% of its deaths.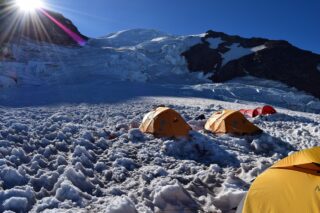 We decided to try the main route on Mount Rainier, Disappointment Cleaver, or just "The DC", with International Mountain Guides based in Ashford, just outside of Mt. Rainier National Park. We opted for a 3 day climb, starting with gear check and trip overview and camping at IMG premises on Friday.
Saturday we met around 8am and left for Paradise, which is the main visitor center at the south Mount Rainier National Park. We started our hike on the Skyline trail to Pebble Creek. The first hour is all on established trail.  After Pebble Creek, we had to put our mountaineering boots on and started trekking on snow and ice. This snowfield takes you straight up to Camp Muir, which is at 10,000ft. The hike took about half the day and we arrived to Camp Muir around 3pm. After relaxing a bit, and taking pictures, we had nice dinner at the group tent and reviewed our plans for the next day. Weather was great all day, sunny and clear with no wind.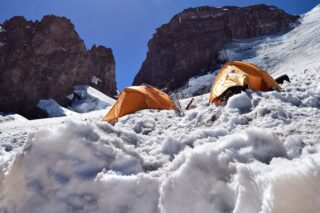 On Sunday we ate pancakes and bacon for breakfast before starting  snow school, where we learned the basics in self-arrest, ice axe use, crampons, running belay and rope travel. After lunch we proceeded to our established tent camp in The Flats at 11,000ft. We had an early dinner and went to bed around 5pm. I was unable to sleep because all I could hear was distant rocks falling off the mountain and the distinct snap of a glacier cracking.

We woke up at 11pm on Sunday for a quick breakfast before we roped up and began our summit attempt at midnight. First is a brief "hike" on the glacier until we reached Disappointment Cleaver. It took us about 2 hours to get on top of this rock, sand and ice "hill". Above the cleaver,  we continued upwards onto the glacier. This part of the approach took about 2,5 hours. Mostly climbing straight up on a very steep and narrow "trail", using fixed ropes, running belays and ladders. We passed several open crevasses and crossed several cracks in the glacier. The most dangerous aspect was the wind, which reached upwards of 30mph. We were able to reach the summit, but it was still dark and because of heavy winds, we decided to descend immediately since it didn't feel safe to linger on the mountain any longer than necessary. We got back to the top of DC very shortly, just after sunrise and were able to enjoy the view without fear of being blown off the mountain. We got back to the high camp around 8am and packed up. We left for Muir camp shortly. At that point we could see dark clouds obscuring the summit and wind getting even stronger. We hiked down to Paradise and arrived around 10am, got into our truck and headed back to Ashford.  The summit day was a long, hard day, but definitely satisfying and filled with adventure.