Mount Shuksan is one of the most photographed mountains in the world for a very good reason, its complexity. Mount Shuksan is comprised of seven glaciers, four major faces and five dramatic ridges. Awe-inspiring icefalls and ice cliffs tower above open rock cliffbands while blue-tinted glaciers snake down each of the major ridgelines. It is an utterly spectacular mountain, and was an equally spectacular climb.
Climbing Mt. Shuksan in North Cascades in Washington consists of forest approach to a gentle glacier climb in the North Cascades that ends with a 500 foot snow (early season) or rock scramble up the summit pyramid. Impressive views of Mount Baker and the North Cascade peaks are the reward of your hard work.  We opted to use Alpine Accents for this climb and went in mid-July.  Starting at the Shannon Ridge Trailhead in the morning of our first day, we hiked about 7 miles to our basecamp, starting in the forests, climbing on top of the Shannon Ridge and cross steep snow covered slopes to the climbers camp. From there we had some great views of Mt. Shuksan, Sulphide Glacier and Baker Lake.
Blue bags or use of solar toilets required at camps on ridge (~6,400 ft) or rock island (~6,100 ft) near glacier water melt. We arrived to our camp in the early afternoon, had an early dinner, practiced some scrambling and climbing with our mountaineering boots and went to bed around 7pm.  There were clouds looming on the top of the Shuksan summit and over the Cascades, however when I woke up around 10pm I went outside and saw the clouds were gone and sky was full of stars.
We got up around 2am and ate hot breakfast. Around 3am we put crampons on and roped up into two summit teams. We crossed the Sulphide Glacier in the dark and witnessed a beautiful sunrise around 5:30am. By 6am we were at the base of the summit rock pyramid.  There are two ways how to get up and down the summit pyramid. One is via the gully, which is Class III – IV scramble. This is the most common route, which makes it the busiest. While most teams use fixed lines in the gully, you can also free climb if you dare. We took an alternate route, which is a pitched climb up the ridgeline that requires some climbing skills. This would be rated as class 5.6. One of the guides went up first to pitch the climbs and fix the ropes, I was right behind him, followed by the rest of our team. The summit approach on the ridge took about 2-3 hours. It gets little technical and there are a few awkward footholds but the guides helped make the ascent possible. Also, climbing up in heavy metal mountaineering boots ain't no fun and took awhile getting used to. They are awkward, hard and heavy and you cannot bend your foot. I recommend getting used to mountaineering boots before you start this climb, not during it! We summited around 9am and enjoyed glorious views of Mt. Baker and North Cascades. The weather was perfect and we could see all the way to Canada!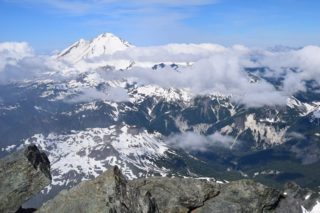 Our descent took several hours as we decided to go down the easier route via the gully through a combination of rappels and downclimbs, but the gully route was very busy, particularly with another team descending in front of us and several groups ascending. The falling rock danger is obvious. Several times we had to wait for group before us to descend and so we can use the fixed ropes. Once off the gully face, we roped up again and continued to our basecamp where we enjoyed one last hot meal, packed our belongings, and started our hike back to the trailhead.
Tips:
There is a trailhead registration for Mount Baker Snoqualmie National Forest which includes the trailhead, trail and part of off-trail approach. There is no trailhead registration for the mandatory North Cascades Naitonal park Wilderness Permit. The Mount Shuksan summit climbing route, camps and part of the approach are within North Cascades National Park. Permits can be obtained at the combined Sedro-Wooley Ranger Station.
Take special care on the summit pyramid gully because of loose rock and multiple parties. Some guide services do not require climbing experience as a prerequisite for this route.
It is possible to ascend from snow covered moraine onto crevassed glacier without realizing it. Take care in choosing when and where to rope up.
If rock pyramid to the summit is covered by ice, do not attempt  summit!