Mt. Shasta is a svolcano located in Siskiyou County, California and is the second largest volcano of the Cascade Range. Mount Shasta rises majestically at nearly 10,000 ft above the surrounding terrain as it is not connected to any nearby mountain.
Mt. Shasta volcano has a complex summit that consists of four overlapping volcanic cones, including the main summit and the prominent satellite cone of 12,330ft Shastina with its visible conical form. Shastina has a fully intact summit crater indicating that Shastina developed after the last ice age.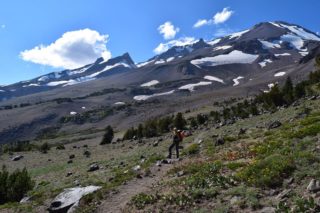 There are 7 named glaciers on Mount Shasta. The 4 largest (Whitney, Bolam, Hotlum, and Wintun) radiate down from high on the main summit to below 10,000 feet primarily on the north and east sides. Whitney Glacier is the longest and the Hotlum is the most voluminous glacier in the state of California. 3 of the smaller named glaciers occupy depressions near and above 11,000 feet on the south and southeast sides, including the Watkins, Konwakiton, and Mud Creek Glaciers.
There is no trail to the summit of Mt. Shasta. All climbing is done by back-country routes. However, by mid to late summer you may find apparent paths made by preceding climbers, particularly along the very popular Avalanche Gulch route. We went in September and took the Clear Creek route. It is the shortest and fastest way to the summit, but it certainly wasn't easy.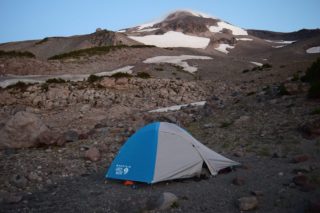 What you need to know:
1. Permits are self-issued at the trailhead and cost about $25 per person. Rangers will check your permit and there is a hefty fine for not having the proper permit with you
2. Bear canisters are a must on this trail. Again, there is a fine if you don't store your food properly
3. Even in the middle of summer, it gets cold at the summit, especially when clouds are present. Bring layers, mittens, hat, and lots of food. We always bring our jet boil and some dehydrated food even for day trips and trust me, there is no better feeling than eating hot pasta when temps get freezing.
The Hike:
Our plan was to drive via Redding from the Bay Area and arrive to the Clear Creek trailhead on Friday morning. The last 2 miles before the trailhead is not recommended for passenger cars with low clearance. So we decided to park at the junction and hike the 2 miles to the trailhead. After hiking the rest of the road and signing register and permits, we then proceeded to backpack to the Clear Creek base camp (about 3 miles from the trailhead). There is a good water source and lots of great campsites. We packed our day packs, filtered water, prepared food and since campfires are prohibited, we went to bed as soon as it got dark.  We awoke to see the mountain tower over our tent, its summit taunting us from above.
On Saturday we got up at 6am and started hiking just before 7am (late start you might say), the trail is pretty clear and easy to follow with a few snow patches you need to get through, but overall the trail is straight up on scree and sand. There are few water streams scattered about the base camp area, but nothing further up the mountain so ration your water. Instead of using our drinking water, we resorted to melting snow on a few occasions to cook hot food. Around noon we got to the mushroom rock which is a rock formation that you see from the trail. After that the trail gets a bit rough and you pretty much have to boulder over the rock pile higher and higher, until a new trail emerges. Once you get to the summit plateau, you can see the peak clearly in front of you. Its a giant rock pile that you scramble up. Their are glaciers on both sides. The rock pile is a little sketchy to get to and as the clouds were coming in and it got windy and really cold,  so we did not spent too much time on the top. After taking a few pictures and having a hot meal pressed between rocks and snow, we began our descent. It was long time sliding and skiing down in sand and getting over rocks. Got back to campsite at 7pm and then started our slog to the car.
Generally I would not recommend doing this as a day hike. We ran into few folks who started around 3am and were trying to finish before dark and it just looked like too much hassle. Spending night at the Shasta base camp was a lot of fun and we enjoyed great views and the peacefulness of the location.